6 surprisingly tasty protein recipes
Muscleberry Blast Shake
Makes 1 Shake
Ingredients
– 2 scoops Vanilla Whey Protein
– 1.5 Cup of Frozen Berries Mix (Strawberries. Raspberries, Blueberries, Blackberries…)
– 4 Tablespoons of fat-Free Yogurt
– 200ml of Water
– 25g of Dextrose (Only if consumed Post-Workout)
Directions
Blend and Enjoy!
Nutritional Facts
Calories: 380
Protein: 54g
Carbohydrates: 51g (26g if no Dextrose)
Fat: 0g

Banana Bread Shake
Makes 1 Shake
Ingredients
– 2 scoops Vanilla Whey Protein
– 1 Banana
– 1/2 Cup Quaker Oatmeal (cooked in water)
– 1/2 Cup Bran Flakes
– 350ml of Water
– 30g of Dextrose (Only if consumed Post-Workout)
Directions
Blend and Enjoy!
Nutritional Facts
Calories: 498
Protein: 56g
Carbohydrates: 64g (34g if no Dextrose)
Fat: 2g
Strawberry Meringues
Makes 2 Servings
Ingredients
– 6 egg whites
– 1/4 tsp cream of tartar
– 2 cups sliced strawberries
– 2 tbsp Splenda
– 4 scoops vanilla or strawberry protein powder
Directions
1. Preheat the oven to 250 degrees F.
2. In a large mixing bowl, beat 6 egg whites and 1/4 tsp of cream of tartar with an electric mixer on medium-high speed, until the egg whites become fluffy and hold stiff peaks.
3. Scoop this mixture out into two large ball-like portions on a baking sheet lined with parchment paper.
4. With the back of a large spoon, depress the middle of each portion to form a pocket (this is where the fruit will go).
5. Bake in the oven until the mixture turns light golden brown, between 5 and 10 minutes. Remove from oven and set aside to let cool.
6. Cut up 2 cups of strawberries and mix in a bowl with Splenda. Add the protein powder to this mixture, 1 scoop at a time, mixing well. Once these dry ingredients are mixed together, add water – 1 tbsp at a time – until the mixture becomes creamy.
7. Pour the strawberry mixture into the meringue pockets, letting it flow over the sides. Serve cool.
Nutritional Facts (Per Serving)
Calories: 330
Protein: 52g
Carbohydrates: 20g
Fat: 4g
Lemon Cheesecake
Makes 2 Servings
Ingredients
– 250 g fat free cottage cheese
– 2 eggs
– 3/4 cup Splenda
– 2 lemons, juiced
– 1/2 tsp baking powder
– Zest from half a lemon
Directions
1. Preheat oven to 375 degrees F.
2. In a blender, blend cottage cheese and eggs until smooth and creamy in texture. Remove mixture from blender and place into a mixing bowl. Mix in Splenda and lemon juice. Finally, add baking powder and lemon zest and mix well.
3. Fill two 2.5″ ramekins with the mixture.
4. Fill a large baking pan half-full with hot water. Place the ramekins inside the baking pan so that the water comes approximately half way up the sides of ramekins.
5. Place the baking pan containing the ramekins into the oven and allow to bake for 35 to 40 minutes.
6. When finished baking, remove the baking pan from the oven and the ramekins from the water. Allow ramekins to cool outside of the water pan. When cool to the touch, place into the fridge over night.
Nutritional Facts (Per Serving)
Calories: 324
Protein: 57g
Carbohydrates: 8g
Fat: 7g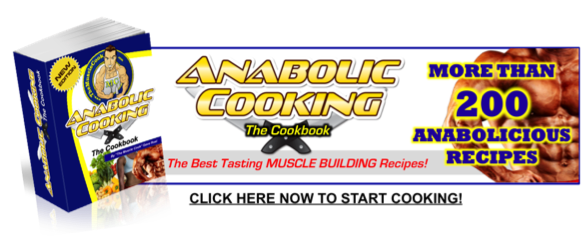 High Protein Fudge Bars
Makes 5 Bars
Ingredients
– 8 scoops chocolate protein powder
– 1 cup oatmeal
– 1/3 cup natural peanut butter
– 3 tbsp honey
– 1/2 cup 1% milk
– 3 tbsp crushed peanuts
Directions
1. Mix together the protein powder, oatmeal, peanut butter, honey and milk.
2. Form into 5 bars and then roll in the crushed peanuts to finish.
3. Place in the fridge for about 30 mins
Nutritional Facts (Per Serving – 1 Bar)
Calories: 452
Protein: 50g
Carbohydrates: 36g
Fat: 12g
Banana Maple Protein Snack Wraps
Makes 1 Serving
Ingredients
– 1 8″ 100% Whole Wheat Wrap
– 1 medium banana
– 1 tablespoons of all natural peanut butter (or almond butter)
– 1 tablespoon of slivered almonds
– 1 scoop of vanilla protein powder
– 1 tablespoons of sugar free maple syrup
Directions
1. In a separate bowl, mash banana and protein powder together with a fork until combined.
2. Spread the peanut butter onto the tortilla. Top with the banana mixture.
3. Sprinkle with almonds, then drizzle with maple syrup.
4. Roll the wrap and enjoy!
Nutritional Facts (Per Serving – 1 Wrap)
Calories: 479
Protein: 33g
Carbohydrates: 52g
Fat: 15g