5 Paleo diet breakfast recipes to try
The trickiest meal of the day is the breakfast. To break the morning monotony, we most find a way to twist our breakfast meals. This article is to help you out with some Paleo breakfast ideas to hopefully provide you with some inspiration.
Firstly, recipe is a set of instructions that can be followed to prepare a particular dish and also include the ingredients needed to prepare them.
Before listing the Paleo diet breakfast recipe for you, the importance of breakfast cannot be overemphasized.
Here are 5 Quick breakfast recipes for the Paleo diet.
Zucchini noodles with creamy avocado and basil sauce
This is a no cook breakfast that you can prepare in a hurry. All you need is less than 15 minutes to prepare the dish.
Ingredients;
For the Zucchini;
½ cup of pine nuts and fresh basil
1 cup of half sliced cherry tomatoes
2 large zucchinis
Crushed red pepper flakes
pepper and salt to taste
For the avocado and basil sauce;
¼ cup basil
½ cup of virgin olive oil
½ tsp fine salt
1 tsp of fresh lemon juice
1 medium avocado
3 cloves of minced garlic
Preparation
Combine all the ingredients listed above and process in a food processor until smooth. If too thick, add a little more oil
Place the zucchini noodles in a large bowl and add ½ of the avocado and basil sauce to toss. Add the tomatoes, basil, pine nuts and the add salt and pepper if required
Serve and enjoy
Breakfast Pork Sausage
This is another delicious yet easy paleo diet breakfast recipe that is perfect for anyone looking for an egg free breakfast. I get bored with eggs all of the time I must admit so I find home made sausages an absolute god-send and you also know what are in them.

Ingredients;
1/8 tsp ground nutmeg
¼ tsp of powdered onion
½ tsp powdered garlic
1 tsp of finely chopped fresh sage and thyme respectively
1 tsp sea salt and 1 tbsp coconut oil
1lb ground pork
Preparation/ Instruction;
Get a bowl, combine and mix the ingredients together
Divide the mixture and form into 8 mini patties
Heat the coconut oil in a skillet at a medium high temperature
Place the 8 mini patties in the skillet and allow each side cook for 5 minutes
Serve hot.
This is another perfect Paleo diet breakfast recipe which I enjoy
Bacon and Heirloom Tomato Frittata with Basil
Here are the ingredients;
½ Pound of organic bacon
Cherry tomatoes of different colors that have been cut into slices
12 Large pastured eggs
1 Medium red onion
Fresh Basil
Black pepper
½ Tbsp Sea salt
Instructions;
Preheat oven to 350 F
Whisk the eggs in a bowl and add 1 clove of minced garlic, sea salt, black pepper, chopped basil and parsley.
Cut your bacon into ¼ inch strips and cook in a skillet until crispy. Scoop out and keep but reserve two table spoon of the fat when you drain.
Add diced red onion into the remaining fat and cook, then add minced garlic and cook again for 60 seconds.
Put bacon back into the pan and spread, then pour the whisked egg into the pan and cook until half done
Place sliced tomato and onion on the eggs and top with fresh basil leaves.
Place skillet in oven and allow cook for 20 minutes and remove. Then allow cool off slightly and serve.
Pancakes are easy to make and can be adapted
Coconut flour pancakes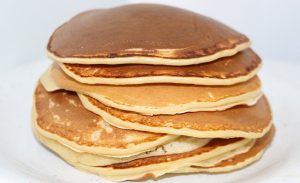 Ingredients;
1/8 tsp of baking and sea salt respectively
¼ tsp of coconut milk, coconut flour and cream of tartar respectively
½ tsp vanilla extract
1 tsp raw honey
2 tsp of coconut oil and 3 large eggs
Instructions
Mix the coconut oil and honey together and add the egg one at a time
Add vanilla and coconut milk and mix until it is smooth
Add coconut flour and mix and you add the baking agents (baking soda, salt and cream of tartar)
Ensure you don't over mix because it does not allow the baking agents work
Pour small amount of batter into pan on medium heat
Once you notice a light brown color in the bottom, you flip.
Drizzle with maple syrup and serve immediately.
The last recipe on the recipe list is 
Almond Butter Blender Muffins
Similar to your typical fruit smoothie, all blender muffins require is that you toss all the ingredients in a blender. But unlike ordinary muffin recipes; the blender muffins don't require whisking flour.
This is one of my favourite recipes
Ingredients;
¼ cup honey
1/3 cup of chopped bittersweet chocolate
½ tsp baking powder
½ cup blueberries
1 tsp pure vanilla extract
2 tbsp of melted coconut oil
Stevia
2 medium sized bananas and 2 large eggs
Preparation;
Preparing this will take less than minutes
First pre heat the oven to 400 F and use nonstick spray to grease 12 muffin cups.
Blend the whole ingredients together (don't add stevia yet)
Divide the mixture between the greased muffin cups and sprinkle some stevia to sweeten if required.
Bake in the oven for 15 minutes and allow to cool for 5 minutes before serving.
There you go there are 5 Paleo breakfast recipes for you to try today